samedi 6 octobre 2012
I am a huge fan of Pierre Herme. Every time I go back to Paris I have to stop to one of his shops and get some of his delicious macarons & pastries. And if I had to make a list of the 10 things I miss the most about France, he will definitely be on it.
My sister in law gave me one of his books for my engagement. I LOVE that book. So far, every single recipe I tried turned out perfectly. When I first saw there was some heavy cream in the ingredients I thought the muffins would turned out really dense and heavy. But the result is very light and moist muffins with a delicious crunchy topping. Perfection.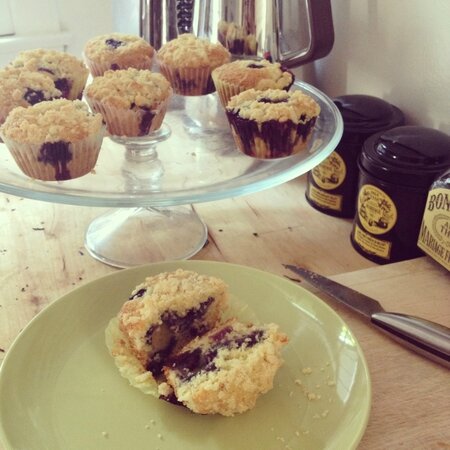 Ingredients :
for the crumble topping
3 Tbsp (50 grams) cold butter
1/4 cup (50 grams) granulated sugar
1/2 cup (50 grams) ground almonds - I just coarsely chopped sliced almonds
7 Tbsp (50 grams) flour
for the muffin batter
3/4 sugar
1 tsp grated zest of a lime
1/2 tsp salt
2 1/2 cups (300 grams) flour
2 tsp baking powder
2 eggs
3/4 cup (140 grams) heavy cream
1 stick (125 grams) melted butter
1 cup (180 grams) blueberries
Preheat oven to 360F (180C).
To make the crumble, mix all the ingredients in a bowl. Set aside in the fridge.
To make the muffin batter, mix the eggs, cream and melted butter. In another bowl, sift the dry ingredients. Incorporate the dry ingredients to the wet ones, mix until combined then fold in half of the blueberries.
Using an ice cream scoop, place a scoop into each muffin holes (that you put paper in them before hand). add the other half of the blueberries on top. Cover with the crumble on top of the blueberries.
Bake for 20-25 minutes. When they're ready, transfer them to a cooling rack
samedi 1 septembre 2012
I grew up in North of France where we eat lots of "Maroilles". It's a cow milk cheese with a REALLY strong smell but surprisingly the taste is not as strong as the smell, it's absolutely delicious. I never found any Maroilles here in Los Angeles but my dad sent me some and I couldn't resist but making a pie with it. This pie only have 5 ingredients (you don't even need salt as the cheese is naturally really salty) and takes 10 minutes to make (a bit more if you decide to make the crust yourself). Perfect for a week dinner.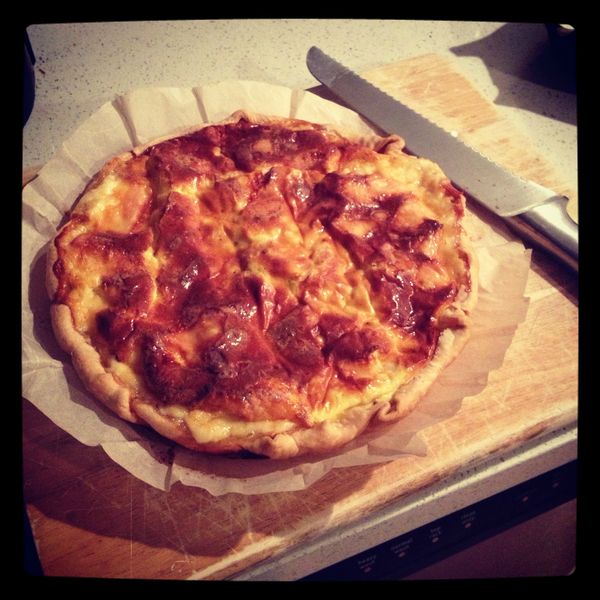 Ingredients for one pie:

- crust pastry
- 3 eggs
- 1 pot of sour cream
- 1 maroilles
- black pepper

Line the pastry with parchment paper in a tart pan. Cut the Maroilles in dices. In a bowl, whisk the eggs and the sour cream, add pepper. Place the dices Maroilles on the pastry. Pour the egg-cream mix over. Bake at 350F for about 40 minutes.
samedi 25 août 2012
I've always wanted to cook with coke since I saw Nigella Lawson cooking a chicken with coca-cola. I haven't tried the chicken yet but the chocolate cake seemed like a good alternative.

This cake was fun to make. The addition of coke is a nice change from other classic chocolate cakes. That being said, I don't think I'll ever bake it again. Simply because it's full of crap ingredients (coca-cola & marshmallows) which is contradictory with my philosophy of cooking and also, those ingredients makes that cake pretty expensive, which I don't mind for quality ingredients but bugs me a lot when it comes to industrial/processed food. If you're in the mood to treat yourself and are not scared of all types of additives go for it!
For the cake :
- 1 cup butter
- 1/3 cup cocoa
- 1 cup cola soft drink
- 2 cups all-purpose flour
- 1 1/3 cups sugar
- 1 teaspoon baking soda
- 2 large eggs
- 1/2 cup buttermilk
- 1 teaspoon vanilla extract
- 1 1/2 cups miniature marshmallows
For the icing :
- 1/2 cup butter
- 1/4 cup cocoa
- 1/3 cup cola soft drink
- 3 cups powdered sugar
- 1/2 teaspoon vanilla extract
Preheat the oven at 350º.

Combine butter, coca-cola and cocoa in a medium saucepan over medium heat, stirring until butter melts. Add the marshmallows. Remove from heat.

Combine flour, sugar, and baking soda in a large bowl; stir in butter mixture. Add eggs, and stir until blended. Stir in buttermilk and vanilla extract.
Pour into a lightly greased 13- x 9-inch baking pan. Bake for 25 to 30 minutes.
Prepare the icing.
Combine butter, cocoa and coca-cola in a medium saucepan over medium heat, stirring until butter melts. Remove from heat; stir in powdered sugar and vanilla. Spoon immediately over warm cake.
lundi 27 février 2012
Great pie! The cream is added at the end so the pastry doesn't get soggy, it stays golden and crusty. The perfect recipe to use some roast chicken leftovers.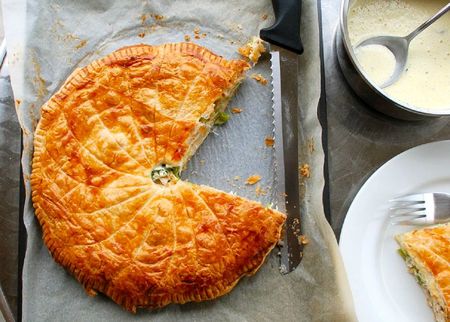 Ingredients:
- 2 sheets of puff pastry
- 1 cooked chicken breast
- 3 spring onions (sliced)
- 1 cup frozen peas
- 1 garlic clove
- salt, pepper
- 1 egg yalk
- 3/4 cup double cream
Preheat the oven at 200C.
Place the peas in a bowl and cover with boiling water to defrost them. Drain.
In a large bowl mix the peas, the shredded chicken, the spring onions, salt & pepper.
Place a puff pastry sheet on a cooking sheet. Cover with the mix of chicken & veggies. Cover with another sheet of puff pastry. Make a hole in the center. Brush the top pastry with wome egg yalk. Place in the oven and cook for 30 min or until golden brown.
Meanwhile, eat the cream in a saucepan, add the crushed garlic and some pepper. Bring it to boil.
Take the pie out of the oven and pour the cream in the center. Let it rest for 5 minutes so the cream spread in the pie.
vendredi 13 janvier 2012
I use to be a huge fan of Oreo cookies. I have to confess that during my first visit to the USA I use to eat a pack of Oreos almost everyday. The original ones, the golden ones, the minis (my favourites!), the "double stuff", the peanut butter ones... etc. Not anymore. I find them bland. It really juste taste like sugar, nothing else. And of course they have an extensive scary list of ingredients.
This recipe is great. You'll find the same texture and appearance than the "real" oreo cookies but they taste infinitely better and are exempt of weird chemicals.

For the cookies:
- 1 1/4 cup flour
- 1/2 cup dutch cocoa
- 1 teaspoon bicarbonate
- 1/4 teaspoon raising powder
- 1/4 teaspoon salt
- 1 1/4 cup sugar
- 1 1/4 sticks (150g) butter
- 1 egg
For the filling:
- 1/2 stick (60g) butter
- 1/4 cup raw coconut oil
- 2 cups powdered sugar
- 2 tbs vanilla extract
For the cookies : Preheat the oven at 375F (190C). Mix the butter and the sugar together until creamy. Add the egg, flour and cocoa. Add the bicarbonate, the raising powder and the salt. Make tiny balls of dough (not bigger than a cherry tomatoe). Place them on a cooking sheet. Bake for 8 minutes. Let them cool.
While the cookies are cooling prepare the filling. Mix the butter, the coconut oil, sugar and vanilla extract together.
Take one cookie. Place a litlle bit of the filling in the middle. Cover with another cookie.
Let the cookies set in the refrigerator.
mercredi 14 décembre 2011
The 3rd birthday of the week! This morning I baked another bunch of cupcakes for my dear friend Heather. One of the best chocolate cupcake I've ever made if not THE best. The cupcakes are extremely light and a little bit bitter with the dark chocolate dough, and the Nutella makes the center super sweet and creamy. A perfect combo!
I've topped the cupcakes with some fondant (black & white leftovers from this recipe). Really easy to make, I basically cut rounds with a glass a "glued" them on top of the cupcakes with some Nutella.
Ingredients (for 12 cupcakes) :
- 3/4 cup flour
- 1/4 cup cocoa
- 1/2 cup sugar
- 2 tp baking powder
- 80g butter
- 2 eggs
- 1/2 cup milk
- 1 tsp vanila extract
- 18 tsp Nutella
- Black & white fondant
Preheat the oven at 160C.
Mix the butter and the sugar together until pale and creamy. Add the eggs and the vanilla.
Add the cocoa and whisk. Pour in the baking powder and the flour. Slowly add the milk and whisk.
Place 1 tbs of the mix in each muffin case. Place 1 tsp of Nutella in the middle. Top woth another tsp of dough on the top.
Bake the cupcakes for 18 minutes & let them cool.
Once they are cool you can top them with some fondant. Use the nutella to glue the fondant to the cupcakes.
mardi 13 décembre 2011
Another birthday this week end! And this time one of my boyfriend's coworkers. So I wanted, once again, to bake something related to movies. It was my first time using fondant so I wanted to keep it simple. I choose to bake a clapboard cake : 2 vanilla cakes covered with chocolate frosting and black & white fondant, nothing really complicated. I had to "patch" some parts of the cake with the fondant and my hand writing is terrible... So the result is not as good as I was expecting. Next time I'll use something else than icing to write. And, as you can see on the pics, my kitchen was an absolute mess! But for a first time it's not that bad, I was pretty proud of myself and the cake did taste good so that's the most important, right?

I used a Smitten kitchen recipe for the cake base and, as I was running out of time (with other cakes to bake for another birthday), I couldn't make any chocolate frosting but I used some chocolate-hazelnut spread instead (aka Nutella).
Ingredients (for a 9 x 13 inch cake):
- 8 1/4 cups cake flour (not self-rising)
- 4 teaspoons (10 grams) baking powder
- 3 teaspoons baking soda
- 2 teaspoon (5 grams) table salt
- 4 sticks unsalted butter, softened
- 4 cups sugar
- 4 teaspoons pure vanilla extract
- 8 large eggs, at room temperature
- 4 cups buttermilk
- 800g of Nutella (or some chocolate frosting)
- Black and white fondant
Preheat oven to 180C. Butter two 9 x 13-inch square cake pans and line with circles of parchment paper, then butter parchment.
Sift together flour, baking powder, baking soda, and salt. In a extra large mixing bowl, beat butter and sugar until pale and fluffy, then add the vanilla. Add eggs 1 at a time, beating well after each addition. Beat in buttermilk until well combined. Add flour mixture in 4 batches, mixing until each addition is just Incorporated.
Spread batter evenly in cake pan, then rap pan on counter several times to eliminate air bubbles. Bake until golden and a wooden pick inserted in center of cake comes out clean, 35 to 40 minutes. Cool in pan on a rack 10 minutes, then run a knife around edge of pan. Invert onto rack and discard parchment, then cool completely, about 1 hour.
Cover the cake with some Nutella. Add the second cake on top of the first one. Cover with Nutella again. Cover with fondant.
Source : Smitten kitchen
dimanche 11 décembre 2011
I love carrot cakes. Unfortunately we don't have them in France. Not at all, except in some few British/American pastry shops in Paris. One of my great pleasure back in France was to go to London for a week end and eat as much carrot cakes as possible... They are just so good. And for some reason I never had a bad one. I don't know if it's because it's easy to make or if I just got lucky but having the ooportunity to taste some in London, New-York, Paris and Los Angeles, I always enjoyed them.
Yesterday was the birthday of a dear friend. A great opportunity to bake some carrot cupcakes! I don't put raisins or orange peel but feel free to add some for an extra flavor.
Ingredients for 24 cupcakes :
- 1 cup of chopped walnuts
- 500g of carrots (grated)
- 3 eggs
- 1/2 cup of buttermilk
- 1 teaspoon of vanilla extract
- 2 cups of sugar
- 1 cup of vegetable oil
- 3 cups of all-purpose flour
- 1 teaspoon of baking soda
- 2 teaspoons of baking powder
- 1 teaspoon of salt
- 1 teaspoon of ground cinnamon
Ingredients for the frosting :
- 250g cream cheese
- 1/2 lemon juice
- 1 cup of powdered sugar
Preheat the oven to 180C
Place the carrots, buttermilk, oil, sugar, eggs, and vanilla extract together in a bowl and whisk thoroughly.
In another bowl whisk the flour, baking soda, baking powder, salt, and cinnamon.
Mix the flour mixture with the carrot mixture. Fold in the walnuts until evenly incorporated.
Scoop into cupcake papers about 1/2 to 3/4 full and bake for 20 minutes at 180C, being sure to rotate the pan after the first 15 minutes of baking. Afterwards allow to cool for 5 minutes before taking the cupcakes out of the cupcake tin and allowing them to fully cool on a wire rack.
Mix all the frosting ingredients together.
Frost cooled cupcakes.
mercredi 7 décembre 2011
Before moving to the USA I never had a sugar cookie covered with royal icing before. It sounds and look way to sweet for me and we don't have them in France anyway. Whereas in America you can find them everywhere for Christmas, Haloween, Easter.... every occasion as its cookie. I think it's a really American tradition. I'm not sure if they have those cookies here in Australia... Or at least I never saw them. I guess I'll find out by myself in the coming days...
I have to admit that although I wasn't really excited by tasting those cookies, I actually love them and they are not as sweet as they look. Which is a good point for me. I am now a big fan of sugar cookies :)
They are fun and easy to decorate, it's a good activity to do with kids during holidays. So go for it!
Ingredients:
- 2 sticks butter
- 1 cup powdered sugar
- 1 egg, beaten
- 1 t. vanilla
- 1 t. salt
- 2 ½ cup flour
For the royal icing:
- 1 egg white
- 1 tsp lemon juice
- 1 1/2 cup powdered sugar

Cream the butter. Add powdered sugar. Add the egg, vanilla, salt and flour. Put the dough in the fridge for 30 min until firm. Roll to ¼" thickness on well-floured surface. Cut with cookie cutters. Place on greased cookie sheets. Bake at 180C for 8-10 min (take the cookies out of the oven before they brown)
Let the cookies cool and prepare the royal icing:
Beat the egg white with the lemon juice. Add the powdered sugar and beat untill combined and smooth. Add some food colouring if needed.
Decorate the cookies by covering them with he royal icing. You can add some sugar pearls or sugar snow flakes but do it before the icing gets hard, otherwise it won't stick to it.
vendredi 2 décembre 2011
Reading the tittle some might think "Yum!" and some might think "Yikes!". But please don't knock it until you've tried it! It's absolutely delicious and has become my new comfort food. It's so simple, easy and yummy! Please give it a try! You won't regret it.
Nigella uses Marmite but you can use Vegemite instead. If you want to see the recipe you can watch the beautiful Nigella here.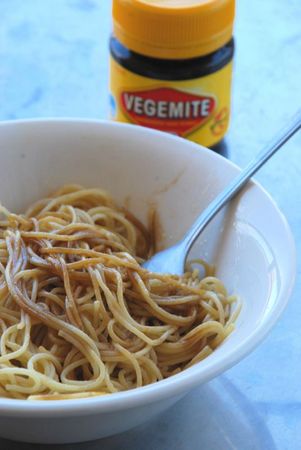 Ingredients:
- 375g dried spaghetti
- 50g unsalted butter
- 1 teaspoon Marmite or more, to taste
- freshly grated Parmesan cheese to serve
Cook the spaghetti in plenty of boiling salted water, according to the packet instructions.
When the pasta is almost cooked, melt the butter in a small saucepan and add the Marmite and 1 tablespoon of the pasta water, mixing thoroughly to dissolve. Reserve 1/2 a cup of pasta water; then drain the pasta and pour the Marmite mixture over the drained spaghetti, adding a little reserved pasta water to amalgamate if required. Serve with plenty of grated Parmesan cheese.
Source : Nigella Lawson