jeudi 25 août 2011
I'm not a big fan of pasta salads. I've always found cold pasta a little gross. So when I usually have some pasta, I need it to be burning hot! And this is gonna be far from traditional italian pasta but that's my french genes speaking) I love my it whith tones of melting cheeses like Comte or Cantal which doesn't work with cold pasta.
This Penne pasta salad is an exeption. I like to have it once in a while. It's a really refreshing salad, full of flavors, perfect for summer. I know, it's winter here... But the weather in Australia is almost like a (bad) french summer so I felt like having a summer dish.
The key is to get REALLY good ingredients : mozzarella di buffala, fresh basil, good quality canned tuna in olive oil and sweet tomatoes, not the insipid ones you can find in supermarkets.
Ingredients:
- 3 cups of penne
- 1 small can of canned tuna in olive oil
- 1 shallot
- 1 cup of mozzarella di buffala
- some basil leaves
- some really good tomatoes
- 1 tablespoon of olive oil
- salt, pepper

Cook the Penne is salted water. Drain. Add the olive oil and set aside.

Thinly slice the shallot, chop the basil, cut the tomatoes in quarters and the mozzarella in tiny cubes. Add all the ingredients to the pasta with the tuna.
Add salt and pepper. Serve!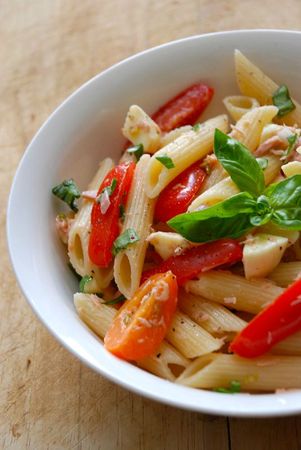 Commentaires
Poster un commentaire