vendredi 2 décembre 2011
Reading the tittle some might think "Yum!" and some might think "Yikes!". But please don't knock it until you've tried it! It's absolutely delicious and has become my new comfort food. It's so simple, easy and yummy! Please give it a try! You won't regret it.
Nigella uses Marmite but you can use Vegemite instead. If you want to see the recipe you can watch the beautiful Nigella here.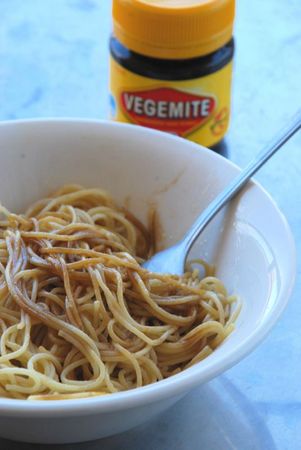 Ingredients:
- 375g dried spaghetti
- 50g unsalted butter
- 1 teaspoon Marmite or more, to taste
- freshly grated Parmesan cheese to serve
Cook the spaghetti in plenty of boiling salted water, according to the packet instructions.
When the pasta is almost cooked, melt the butter in a small saucepan and add the Marmite and 1 tablespoon of the pasta water, mixing thoroughly to dissolve. Reserve 1/2 a cup of pasta water; then drain the pasta and pour the Marmite mixture over the drained spaghetti, adding a little reserved pasta water to amalgamate if required. Serve with plenty of grated Parmesan cheese.
Source : Nigella Lawson