lundi 27 février 2012
Great pie! The cream is added at the end so the pastry doesn't get soggy, it stays golden and crusty. The perfect recipe to use some roast chicken leftovers.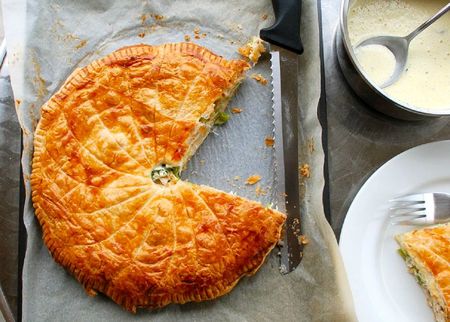 Ingredients:
- 2 sheets of puff pastry
- 1 cooked chicken breast
- 3 spring onions (sliced)
- 1 cup frozen peas
- 1 garlic clove
- salt, pepper
- 1 egg yalk
- 3/4 cup double cream
Preheat the oven at 200C.
Place the peas in a bowl and cover with boiling water to defrost them. Drain.
In a large bowl mix the peas, the shredded chicken, the spring onions, salt & pepper.
Place a puff pastry sheet on a cooking sheet. Cover with the mix of chicken & veggies. Cover with another sheet of puff pastry. Make a hole in the center. Brush the top pastry with wome egg yalk. Place in the oven and cook for 30 min or until golden brown.
Meanwhile, eat the cream in a saucepan, add the crushed garlic and some pepper. Bring it to boil.
Take the pie out of the oven and pour the cream in the center. Let it rest for 5 minutes so the cream spread in the pie.