samedi 6 octobre 2012
I am a huge fan of Pierre Herme. Every time I go back to Paris I have to stop to one of his shops and get some of his delicious macarons & pastries. And if I had to make a list of the 10 things I miss the most about France, he will definitely be on it.
My sister in law gave me one of his books for my engagement. I LOVE that book. So far, every single recipe I tried turned out perfectly. When I first saw there was some heavy cream in the ingredients I thought the muffins would turned out really dense and heavy. But the result is very light and moist muffins with a delicious crunchy topping. Perfection.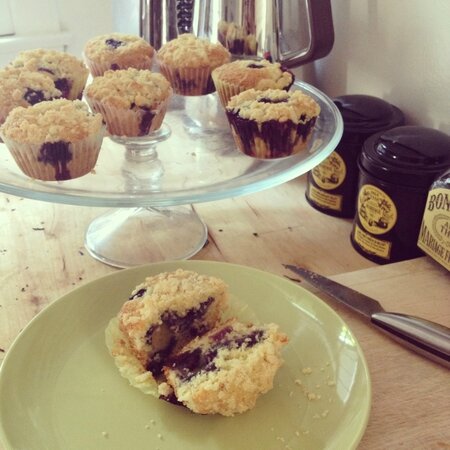 Ingredients :
for the crumble topping
3 Tbsp (50 grams) cold butter
1/4 cup (50 grams) granulated sugar
1/2 cup (50 grams) ground almonds - I just coarsely chopped sliced almonds
7 Tbsp (50 grams) flour
for the muffin batter
3/4 sugar
1 tsp grated zest of a lime
1/2 tsp salt
2 1/2 cups (300 grams) flour
2 tsp baking powder
2 eggs
3/4 cup (140 grams) heavy cream
1 stick (125 grams) melted butter
1 cup (180 grams) blueberries
Preheat oven to 360F (180C).
To make the crumble, mix all the ingredients in a bowl. Set aside in the fridge.
To make the muffin batter, mix the eggs, cream and melted butter. In another bowl, sift the dry ingredients. Incorporate the dry ingredients to the wet ones, mix until combined then fold in half of the blueberries.
Using an ice cream scoop, place a scoop into each muffin holes (that you put paper in them before hand). add the other half of the blueberries on top. Cover with the crumble on top of the blueberries.
Bake for 20-25 minutes. When they're ready, transfer them to a cooling rack