mercredi 31 août 2011
Today I baked something typically Australian and that you'll find in every restaurant over here: the Sticky date pudding. All the ones I've tried in restaurants were pretty dried but this recipe gives you the moistest cake ever! It's spongy and syrupy, a real treat! With the butterscotch sauce and some vanilla ice cream it's just heaven.
Ingredients:
- 250g of Dates, finely sliced
- 1 teaspoon of bicarbonate soda
- 1 ½ cup of boiling water
- 125g of butter, softened
- 1 cup of brown sugar
- 1 teaspoon of vanilla extract
- 2 eggs
- 1 ¾ cups of self-raising flour
Preheat the oven to 180C
Place dates & bicarbonate soda in a bowl. Pour over the boiling water. Stand for 20 minutes.
Beat butter, sugar and vanilla extract until pale and creamy. Add eggs. Mix with dates & flour.
Bake for 40 minutes.
For the sauce:
- 1 cup of brown sugar
- 300ml of thickened cream
- ½ teaspoon of vanilla extract
- 60g of butter


Bring all the ingredients to boil. Reduce heat and cook it for 5 minutes.
Serve the sticky date pudding warm with some vanilla ice cream and the sauce.
It's never easy to change places and get use to the new kitchens straigh away. Especially with ovens that never bakes the same way! I'm starting to get use to my tiny western Australian kitchen where I've been cooking for 3 months now but unfortunately I will have to leave it in a week :(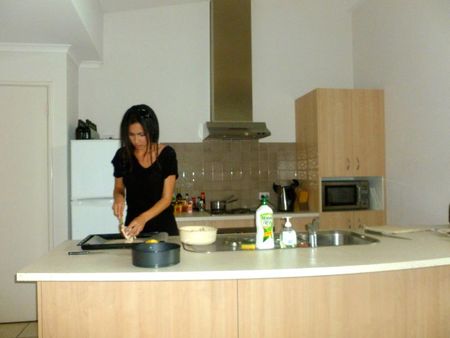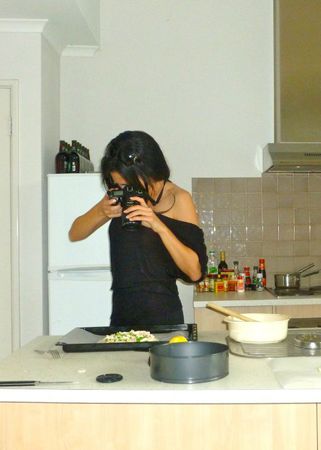 I have been limited on cooking due to a lack of kitchen ustensils but I enjoyed it! :)